Is anyone on my current list still active?
Ray Bradbury, literary genius and acclaimed sci-fi and fantasy author of Fahrenheit 451, The Martian Chronicles, and Something Wicked This Way Comes, died late Tuesday in Los Angeles. He was 91.
His grandson, Danny Karapetian, shared the news:
If I had to make any statement, it would be how much I love and miss him, and I look forward to hearing everyone's memories about him. He influenced so many artists, writers, teachers, scientists, and it's always really touching and comforting to hear their stories. Your stories. His legacy lives on in his monumental body of books, film, television and theater, but more importantly, in the minds and hearts of anyone who read him, because to read him was to know him. He was the biggest kid I know.
Bradbury had suffered a stroke in recent years that left him confined to a wheelchair. But he continued to write novels, plays, screenplays, and a volume of poetry late in life.
"What I have always been is a hybrid author," Bradbury said. "I am completely in love with movies, and I am completely in love with theater, and I am completely in love with libraries."
In fact, Bradbury wrote Fahrenheit 451 at the UCLA library, on typewriters that he rented for 10 cents per half hour. He carried a sack full of dimes to the library and completed the book in nine days, at a cost of $9.80.
"I never went to college, so I went to the library," he said. "The great thing about my life is that everything I've done is a result of what I was when I was 12 or 13."


I stumbled on this news today while scrolling through facebook on my phone in the break room at work. I'm crushed.

I read Fahrenheit 451 in my sophomore year in high school and was completely entranced. I finished it in days. Way ahead of the rest of the class. I remember staying after class and discussing the book with the teacher. I bought the DVD of the movie, just for the interview with him.


If I did, I do apologize.

Marc is currently playing Bayonetta. It is ridiculous and looks complicated. I can't even handle the first Mario Brothers game. This would probably make my head blow off. Right off.

Frank Warren, the guy who is behind Post Secret, is coming to Buffalo in 2 weeks. Marc's mom got us tickets.
Nice.
Did I offend with my stinky feet post?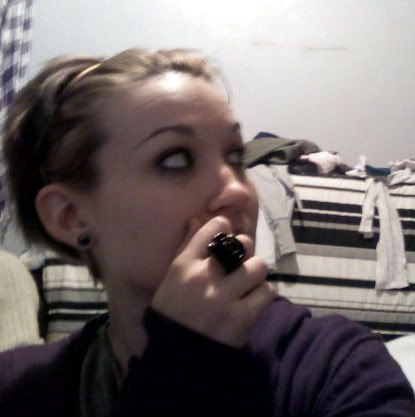 I'm a pretty panda.
I've been drawing more as of late.
I wish it was warmer and earlier in the day, I'd really like to take a walk.
I bought a big obnoxious ring, as evidenced in my photo there.
There is a certain kind of music that makes me want to be more productive/creative/plan for the future.
I'm so weird!
http://dsc.discovery.com/news/2009/09/17/tiny-t-rex-dino.html
New dinosaur found!!!
KRXQ Radio Hosts Respond to Outrage
Over Defamatory Comments
June 4, 2009 — On June 2 GLAAD issued a Call to Action in response to defamatory and dehumanizing comments made on KRXQ-FM's May 28th edition of the Rob, Arnie & Dawn in the Morning radioshow in Sacramento, California. The show is also heard on KDOT-FM in Reno, Nevada. Radio hosts Rob Williams and Arnie States made the remarks which included advocating child abuse of transgender children. Hundreds of LGBT people and allies across the nation contacted the program to voice their serious concerns. That prompted the hosts to devote the entire June 3 broadcast to addressing this issue.
You can listen to the entire program here:
http://www.glaad.org/Page.aspx?pid=730
Williams and States took turns referring to gender dysphoric children as "idiots" and "freaks," who were just out "for attention" and had "a mental disorder that just needs to somehow be gotten out of them," either by verbal abuse on the part of the parents, or even shock therapy.

"Allowing transgenders to exist, pretty soon it becomes normal to fall in love with the animals," they said.
http://www.huffingtonpost.com/michael-rowe/krxq-sacramento-radio-hos_b_210637.html
Their show has been taken off the air for three days.
Personally, I think they deserve more than that.
I don't know how Dawn could work with these two assholes.
Douchebags....
Internet in 2 more days!